Welcome to the Cyclops Thread!
Feel free to discuss strategies and other topics related to this character. Suggestions and feedback are always welcome.
[/CENTER]
---
[/HR]
---
[/HR]

[INDENT]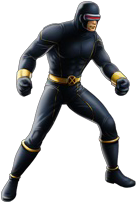 [/INDENT]
[INDENT]
....

Modern Cyclops Sprite
[/INDENT]
Organization:
X-Men
Class:
Tactician
Cost:

15 Command Points
OR get him for
FREE
as a choice in a reward back at Chapter 1.
Team-up Bonuses:
For more info regarding Team-up Bonuses click
here
.
Abilities:
Passive Ability:
Natural Leader:
Has a chance of giving Morale Boost to allies that take damage, increasing all stats.
Comments:
The leader of the X-men has the capability to boost the morale of his damaged squad. The passive is just like Heroic Call's Morale Boost (15% more stats for 3 rounds). A bit inferior to Captain America's Inspire Leadership, but still acceptable because the proc rate is very high. 
(

Special note on Natural Leader:

A quick reminder with this passive is that it won't apply to your team IF the enemy who attacked you died just after his attack before he could end the turn (e.g.: Bleeding deaths, Counter deaths, etc).)
Level 1 Ability:
Optic Blast
Target:
One Enemy/Also used as a Counter and Follow-up move
Basic Hit / Critical:
 94%/11%
Deadly Crits:
Deals extra damage on Critical hits.
Flanked:
Single-target attacks against this target grant a follow-up attack. (1 round)
Comments:
Cyclops' first move is a killer. It's about him, leading you to focus your attacks on the flanked unit. With this skill, Cyclops is best paired with heroes using deadly follow-up moves. A few candidates would be Phoenix(Any variant), Heroic Age Hawkeye, Captain America, Nightcrawler, Magneto and many more. This move shines in both PVE and PVP. Don't forget that it also does
Deadly Crits
, so it hits harder than your average critical attacks. Another fact would be that Cyclops' Optic Blast is one of the two hero abilities to have the
Flanked
debuff, Union Jack's Level 9 ability being the first ability to have it. 
(

Special note on Flanked:

It will not trigger if the Flanked unit is not your original target. For example, if you target a Phoenix, but a Flanked Protector Rescue protects her, you won't be getting any follow-ups.)
(Optic Blast is now counted as "Kinetic" as of 2013/08/15.)
Level 2 Ability:
Exploit Weakness
Basic Hit / Critical:
 87%/21%
Disadvantage:
Creates a negative effect according to the class of the target.[INDENT]
Tactician → Exhaustion (prevents extra turns)
Infiltrator → Off-balance (prevents counter attacks)
Scrapper → Winded (prevents follow-up attacks)
Bruiser → Neutralized (removes stat buffs & prevents stat buffs)
Blaster → Impaired (prevents crits & -20% damage)
Generalists → Intimidated (reduces Attack, Accuracy, and Evasion)
[/INDENT]
Weakpoint:
The next attack against this target is guaranteed to hit and crit. (2 rounds)
Comments:
Being an experienced leader, Cyclops knows where and how to hit his enemies. He is the
ONLY
hero to have the Disadvantage debuff in his sleeve. This move makes Cyclops flexible in any situation, as he can nullify any class advantage that an opponent has. This is also a move that unprotected Blasters dread for the combo: 
Optic Blast -> Extra Turn = Exploit Weakness -> Follow Up = Deadly Crits Optic Blast.
It is also worth mentioning that Cyclops is the only one who could nullify the Bruiser's Enraged Buff + any stat increasing buff a Bruiser has. 
It can also be powered by the Unstoppable Force buff via Juggernaut or Momentum Generator.
Level 6 Ability:
Evasive Maneuvers
Quick Action:
Grants an immediate free turn after using and Does not trigger follow-up attacks.

Agile:
Evasion increased by 25%. (3 rounds)
Combat Expertise:
Counter-attacks when attacked by any attack. (1 round)
Comments:
All that training in the Danger Room allows Cyclops and his allies to evade and quickly think of an immediate counter against all attacks. This is Cyclops' biggest improvement. Combat Expertise is again a
UNIQUE
buff, only available via Cyclops' third skill. It grants unlimited counter-attacks for all your allies for a whole round. A definite step-up from your regular Combat Awareness. 
It is very deadly for opponents who frequently use AOE attacks, since a whole team counter would definitely come barraging after his/her move. A frequent victim of this would be Omega Sentinel, who uses Plasma Torch as an opening move. This move is definitely a good one, but can be countered by Off-balance, Buff removal and Stealthy/Psychic Attacks. Keep that in mind while playing Cyclops because a properly placed Combat Expertise can determine a win for you. Also note that the AI for Cyclops almost always use this as an opening move, which can be kind of a downfall for him. PVE-wise, it's a killer. Period.
Level 9 Ability:
Mega Optic Blast
Basic Hit / Critical:
 98%/7%
Deadly Crits:
Deals extra damage on Critical hits.

Incapacitation:
Chance to lose a turn and this counts as Stun for the purpose of attacks. (2 rounds)
Comments:
BEHOLD! OPTIC BLAST!
A pretty straight-forward move, not having the sparkle of a real Mega Optic Blast. It has Deadly Crits but sadly, its base damage is very low, probably to even it out since it's AOE. Although, it does have a 100% chance of putting a chance-based Stun in the form of Incapacitation. You can't rely on Incapacitation, but it may annoy a player with no debuff removal. They could have put Catastrophic in this move to make it more close to a Mega Optic Blast. The AI also spams this around 70% of the time. Use it if you just want to clean up or want to put an extra debuff on the enemy. PVE-wise, it's okay, but Optic Blasts might be better.
(Mega Optic Blast is now counted as "Kinetic" as of 2013/08/15.)
Update on Mega Optic Blast:
I don't know if it's intentional or not, but Incapacitation has been buffed quite a lot after this
patch
even though it's not documented (Although technically, it's just returning Incapacitation's debut power). It now disables
protects
,
counter attacks
, does not give you a "
Recently Stunned
" buff after successfully proc-ing and does not go away until the duration is out. If it's a permanent change to Incapacitation, I'll erase everything that I've said above, because now, if you have a window to use Mega Optic Blast in your battles, DO SO without second thoughts. It even shuts down the Infiltrators' Combat Reflexes counters, so Tactician Cyclops will not have to worry using it all the time.